Mom, can we have tacos for dinner? I hear that question more than once a week. Mexican food  is a staple in our home and as my children would say, we could eat it "like literally" every day.  However, tacos get a little boring after a while which is why I started creating family style dishes. Subbing meat for veggies in our favorite Mexican dishes provides a healthy twist to the usual meat and cheese.
My friends will say that I am always creating Mexican dishes and dining at Mexican restos with them because the food is the BEST! Inevitably, we will talk about our favorite dishes like Carne' Asada, Chicken Enchiladas and children almost always say queso. Those are all great and I love hearing all of the mouth watering choices. Then, it comes to me and I agree that just about every Mexican dish is amazing and  begin to think of the ways how I can make all of the very same dishes and pack them with vegetables.
Turn this Taco Bowl filled with roasted sweet potatoes, brown rice and corn cooked in the rice cooker, fresh tomatoes, romaine lettuce, red onion and lime wedges with avocado lime dressing into an even bigger crowd pleaser by serving with warm corn tortillas. This dish will get your kids to eat veggies and become a staple on your monthly dinner menu.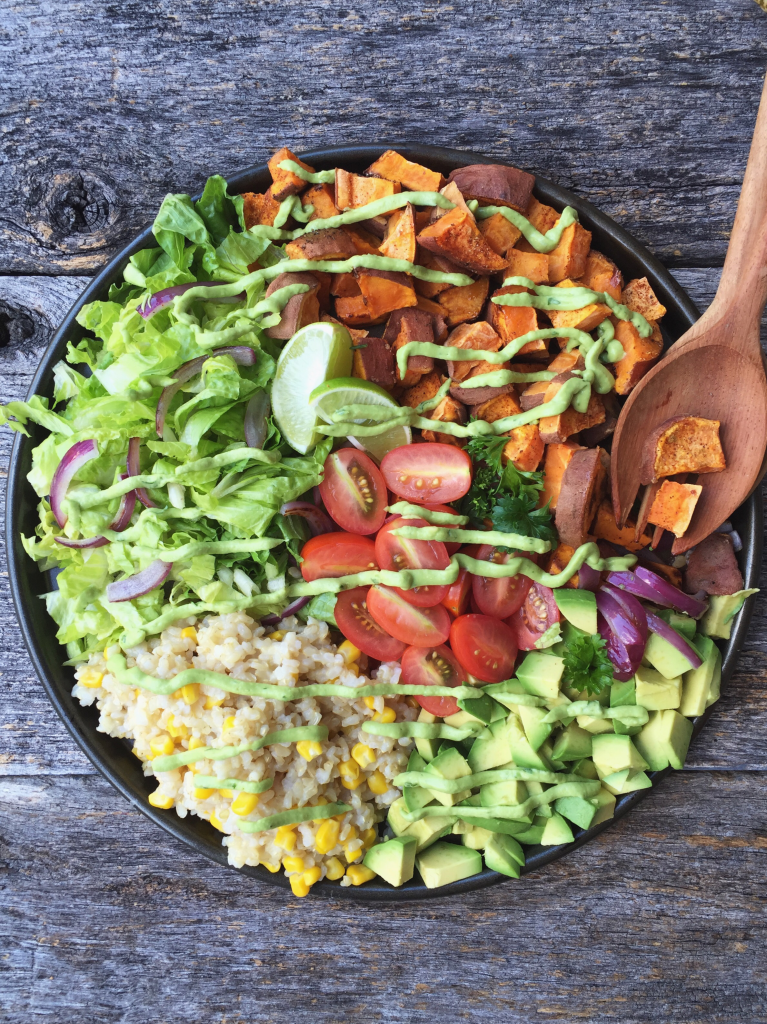 The great thing about making a dish like this, is that there is something for everyone!  A lot of times one of my kids will like something and another won't.  This gives your kids the option of trying everything, but also being able to select what they want on their plate.  There are familiar ingredients and maybe some that aren't so familiar.
Avocado is a great source of healthy fat, and a yummy veggie to include that is really filling.
If you aren't having meat with your dinner, include avocado!