A fun summer BBQ chicken twist that kids love. Peach BBQ chicken tenders are sweet and tangy all at once! 
Peach season is upon us and can't get enough! Fresh, juicy peaches are such a hallmark of summer.
We decided to combine peaches with another summer staple: barbecue. BBQ sauce, that is. And believe me, peach BBQ sauce tastes as fresh and delicious as it sounds!
Another added bonus: our peach BBQ sauce also contains a whole red bell pepper (yay veggies!) and no ketchup! So many recipes used ketchup as the base and we wanted to avoid the high fructose corn syrup and the like. And believe me, you don't miss it!
Homemade Peach BBQ Sauce (no ketchup!)
Veggies are our base: dice half an onion and a whole red bell pepper. Saute them in 1 tablespoon of olive oil over medium-high heat for about 10 minutes.
Meanwhile, dice up 2-3 peaches, You'll need 2 cups of peach cubes.
Once the onions and bell pepper are fairly soft, add the peaches. Saute everything for another 7-8 minutes, until everything is nice and soft. Add 3 cloves minced garlic and stir for a minute. Remove from the heat and pour everything into the blender.
Now add the rest of the sauce ingredients to the blender: 1/4 cup apple cider vinegar, 2 tablespoons Worcestershire sauce, 1/3 cup honey, 1 teaspoon dry mustard, and 1 tablespoon chili powder. Set this aside for now.
Now blend everything up for a minute or two, until well blended. Mine didn't turn out perfectly smooth, and that's okay. If you have a great blender it probably will!
This recipe makes about 2.5 cups of peach barbecue sauce, which is more than enough for the 2 pounds of chicken this recipe calls for.
Cook up some peach BBQ chicken tenders
Now it's game time. If you haven't already, cut 2 pounds of chicken breasts into thick strips or "tenders." You can also find chicken tenders pre-cut at most grocery stores. Now poke them generously with a fork so that they become tender and soak up flavor a little better.
Pour half of the BBQ sauce you just made into a large, flat container. Add the chicken and toss to completely coat. Cover and allow to marinate for 30 minutes to 8 hours in the fridge.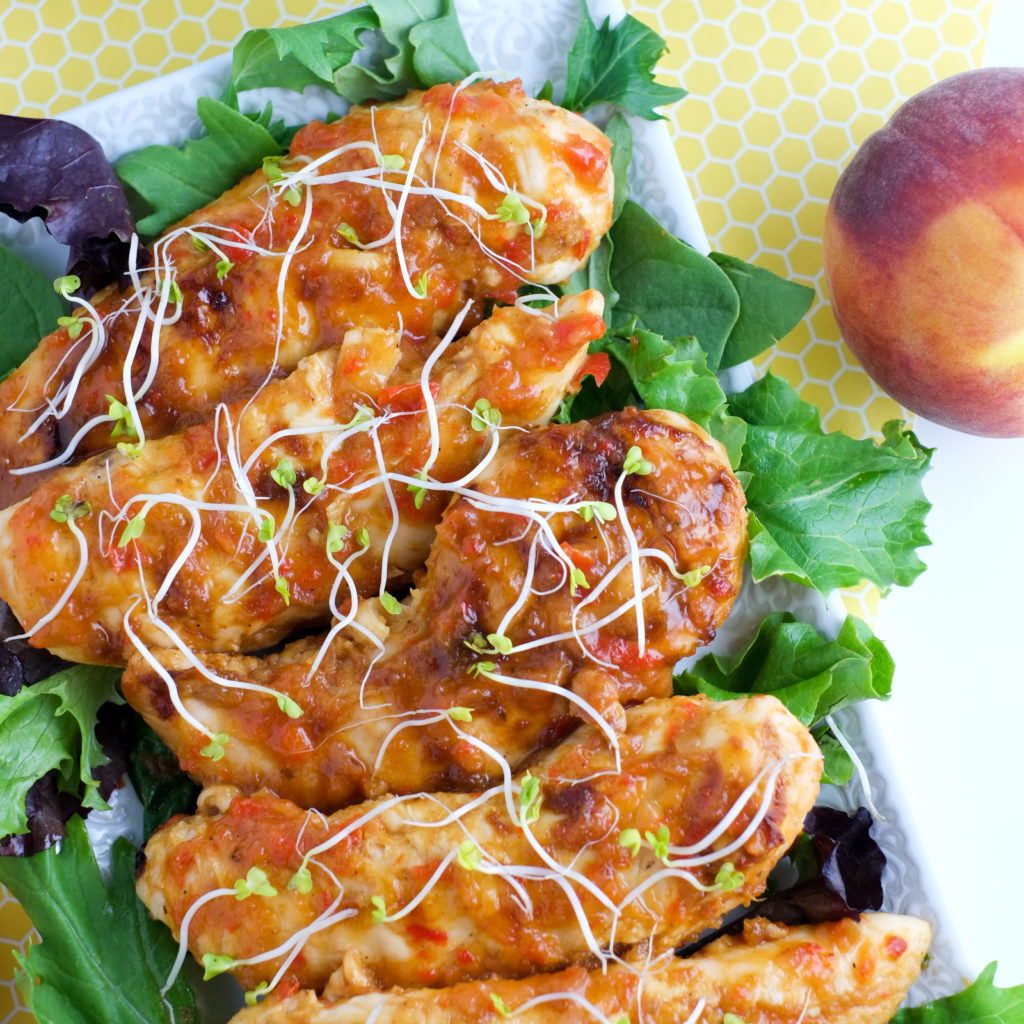 When you're ready to cook, simply heat a large skillet over medium-high and spray with cooking spray. Cook the tenders for 4 minutes on each side, and brush each tender with extra sauce just before removing. The chicken will be done with the centers have no pink.
You can also grill these peach BBQ chicken tenders. The process is basically the same: turn the grill to medium-high heat and brush the rack with oil. Grill the chicken for 4-5 minutes per side, adding more sauce toward the end.
Serve with other summery sides like corn on the cob and watermelon!
For more peach recipes, check out some of these! I'm going to try the peaches and cream Popsicles next — yum!