Wondering if you should try to make your own baby food? We love making our own baby food because you can be sure your baby is getting the best food possible. Sweet potato baby food is great to start with because it's nutrient dense and versatile. For feeding on the go we've found some great refillable pouches. They're convenient, less expensive than store-bought, and easy to fill with the Squooshi feeding station. 
Making Baby Food
Like many first time moms, I am wandering into the unknown of baby food for the first time. It's exciting, but also a little overwhelming. What should she eat first? Should I make my own baby food? If so, how do I make my own baby food? And how long will this take?
Well I am here to tell you that it's as easy as I could have hoped! Not only is it easy, I love making my own baby food because I can be sure my daughter gets whole foods that are in season. If babies only eat a little bit, you want to be sure that what they do get is the best quality. Making my own baby good is the easiest and cheapest way for me to do this.
Sweet Potatoes: the Super (Baby) Food
This recipe is for sweet potato baby food because sweet potatoes are a great early food for baby (plus, it's fall!). Sweet potatoes are high in so many vitamins and minerals: vitamins A and C, beta-carotene, potassium, copper, and manganese. Plus, they're a great source of fiber. With all this packed in, sweet potatoes are nutrient-dense – which is exactly what you want in a baby food.
Sweet potatoes are also amazing because they are delicious in a variety of ways. Alone = yum. Savory with some thyme and carrots  = the next level. Combined with apples and cinnamon = practically dessert.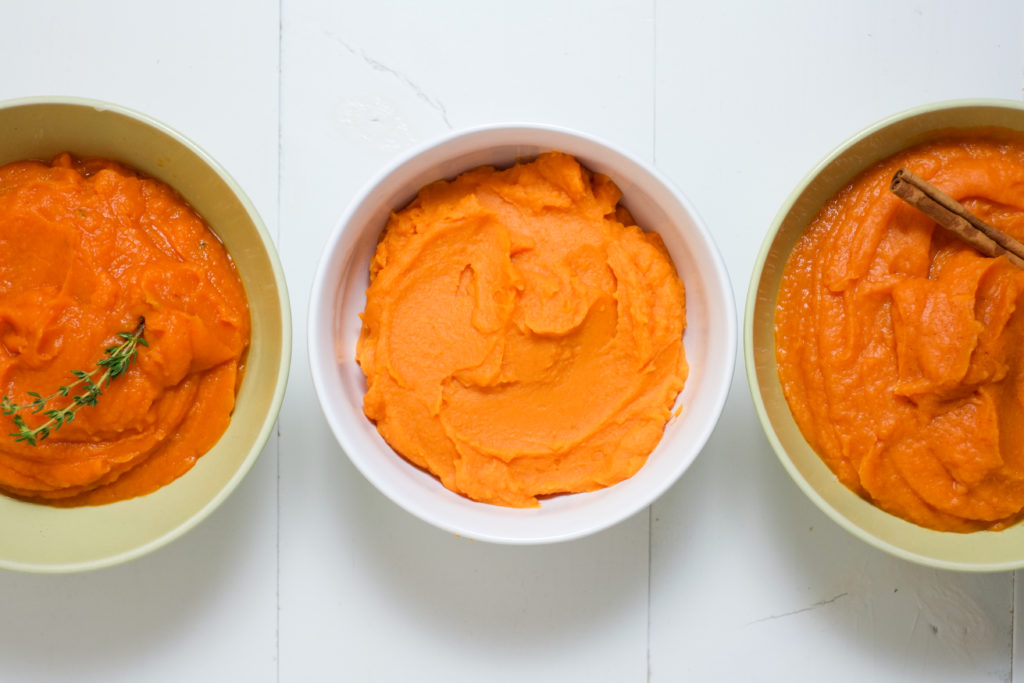 How to make Sweet Potato Baby Food
For a small batch of sweet potato baby food, all you need is one sweet potato. Simply wash, peel, and chop into 1/2-inch cubes. Place into a small saucepan with 3/4 cup of water and bring to a boil. Cover, reduce heat, and allow to simmer for 13-15 minutes, or until tender.
Once the sweet potato is cooked, allow it to cool in the pot for a few minutes. Pour sweet potato and all the water into a food processor or high-powered blender and blend until smooth. Using the water you boiled in means you keep all the vitamins that leached out in cooking, so try not to use fresh water for this.
Variations to try once baby is used to food:
Savory: add 2-3 peeled, chopped carrots and the leaves of 2 sprigs of fresh thyme to the pot. The carrots may need a few more minutes to cook. A heartwarming dinner with added nutrients from the carrots.
Sweet: add a peeled, chopped apple to the pot and reduce water to 1/2 cup, then add 1/4 teaspoon of cinnamon to the food processor. No added sugar, but so sweet!
Using Squooshi Pouches and the Filling Station
These pouches are amazing. And what's better, filling them is a breeze – no mess!
My daughter is a mess with spoons. Most of the food ends up on her bib, hands, or all over me. But when we tried the pouches, she kept almost all the food in her mouth! Plus, they'll be great to keep frozen and then take out when we're on our way out the door.
I know what you're thinking – but filling them has to be a pain. Think again! The Squooshi Filling Station makes filling these pouches relatively effortless and very clean. Simply plop your baby food into the station, attach a pouch to the nozzle, and press down. Once you're done, the filling station goes right into the dishwasher.
The pouches are also a breeze to clean. The bottoms zip open, so you simply wash them in some hot, soapy water. I find it convenient to use a bottle brush because it fits just perfectly.
I hope you and yours enjoy making and eating this sweet potato baby food!
---
USE CODE SUPER12 to get 12% off all orders on Squooshi through November 30, 2016.