Redefine "kid-friendly" with this mild, warming, healthy curry packed with protein and vegetables.
Like most kids, mine can be picky. But they surprise me plenty with their tastes and appetites, and I love that! Last week, my daughter–who has rejected sweet potatoes her entire life–started forking in mouthfuls of the orange root out of the blue. And my son ate salted radishes that I tucked into his lunchbox on a whim.
Little successes like this remind me to keep my chin up, and keep offering a variety of foods… even when it feels like we're in the middle of a mac-and-cheese jag. You really never know what kids are going to try and enjoy.
Which brings us to Indian food. It's a perfect example of yummy, comforting family food that has a reputation for being a date-night indulgence for grownups only. But kids can love curry, too! And this is the recipe that proved that to me.
When I first made this curry about two years ago, my daughter was still an infant, and still in the habit of rejecting almost every solid food I offered her.
But when I let her taste this curry, she couldn't get enough! I was so happy! Especially because this dish offers well-rounded nutrition all in one pot: protein-rich chicken, fiber-full legumes, and fresh tender veggies like cauliflower and carrots.

I hope your kids love these bold flavors, too…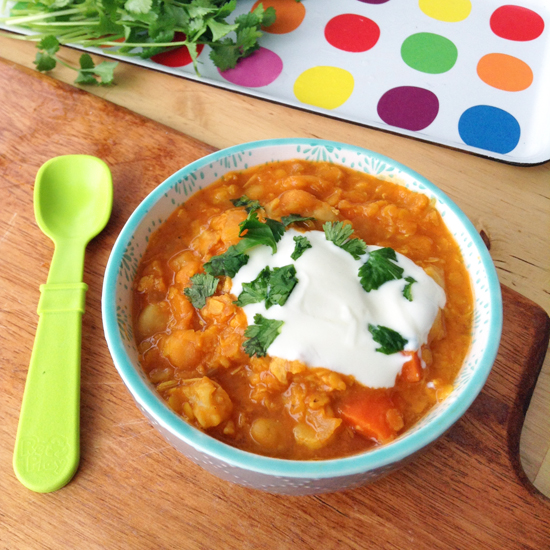 Easy Weeknight Meal
Traditional Indian food can be time-consuming to cook, but we've updated this recipe to match a busy weeknight schedule (without sacrificing flavor.) Red lentils cook quickly and don't require soaking. And if you have leftover cooked chicken on hand, the whole delicious dish comes together in 30 minutes, and in one pot.
Here's how to do it:
Saute the veggies in olive oil until translucent.
Then add the garlic, ginger, and spices, and fry for just a minute.
Next add the cooked chicken, raw lentils, cooked chickpeas, tomato paste, water, and salt, and simmer until tender.
Finally, add a squeeze of lemon, and you're done!
My kids like a spoonful of plain yogurt on top of their curry, and a side of fresh fruit. While we eat, we talk about how the spices and flavors in the meal come from all the way across the world! The kids get a kick out of that. 🙂

Have your kids ever surprised you by eating something you considered "grown-up food?" What was it? How did you react?