Letting kids make their own combination of juices can be fun for them!  I think I saw this on either PBS Kids or Cartoon network, since it's the only two kids channels we have, it had to be one of them. They had kids sitting around a table, dipping tablespoons into different juices to create their own drink combination.  I thought we would try it because:
It looked fun!
I'm picking up a produce box today and need to use up the produce we haven't eaten yet.
Juicing can be a healthy part of a kids diet.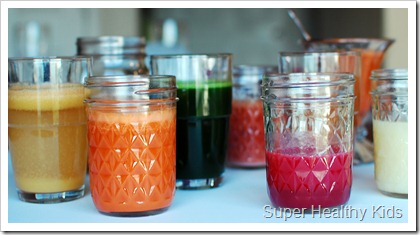 So, we juiced:
Carrots
Berries
Kale
Apples
Peaches
Lemons
Yams
Then, the kids mixed different juices together to create their own custom drinks.  They actually drank it too.  When TJ was pouring in the kale (and I mean POURING in the kale), I kept saying, "Are you sure you want that much kale?"  He still drank it!
According to the American Academy of Pediatrics, the juice recommendations for kids are:
No more than half the fruits and vegetable servings for the day should come from juice.

Kids ages 1-4 could drink 6 ounces of fruit juice per day, and kids over 10 can drink up to 12 ounces per day.

Infants younger than 6 months should not consume juices in any form.

Juice should only be offered to a child who can drink from a cup (as opposed to putting juice in bottles.
*If you love to juice, check out my new book, 201 Healthy Smoothies and Juices for Kids