Pizza night is the highlight of our weekly meals. We love pizza but the pizza we would have delivered isn't exactly wholesome food and pizza in my weakness so tonight we tried the Homemade Grilled Pizza. We are finally starting to feel the warmth on our faces after a long Winter which means it's time to start using the grill (or smoker, if that's your preference.)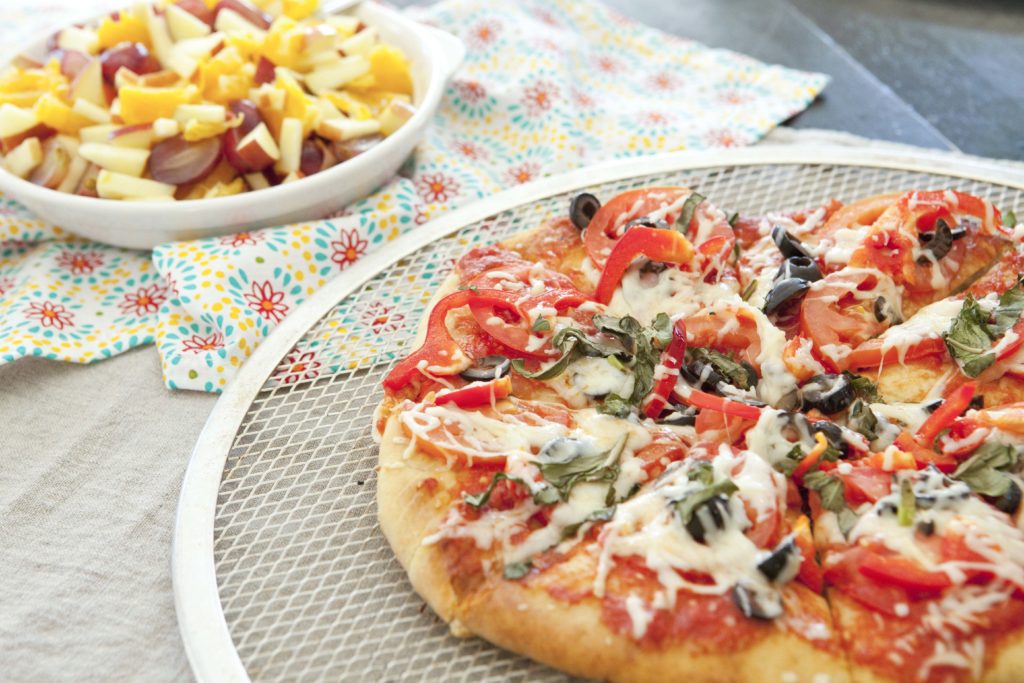 Most of my favorite dinners during late spring and summer involve our grill or pellet smoker, so why not make our families favorite meal on it? Tonight we actually used our pellet smoker because we can crank it up to a steady 425 degrees. During the summer I don't want to turn our oven on if we don't need to… it's just too hot! Plus, it's more fun being outside. While my husband and I  were making and grilling the pizzas tonight, the kids were playing in the sprinklers. I loved listening to the kids laugh and play!
This recipe is easy, fun and it turned out perfect! Fresh homemade dough, infused with  garlic and basil,  tomato sauce, chewy mozzarella cheese, tomatoes, red peppers, and olives with fresh basil sprinkled on top. Is your mouth watering yet?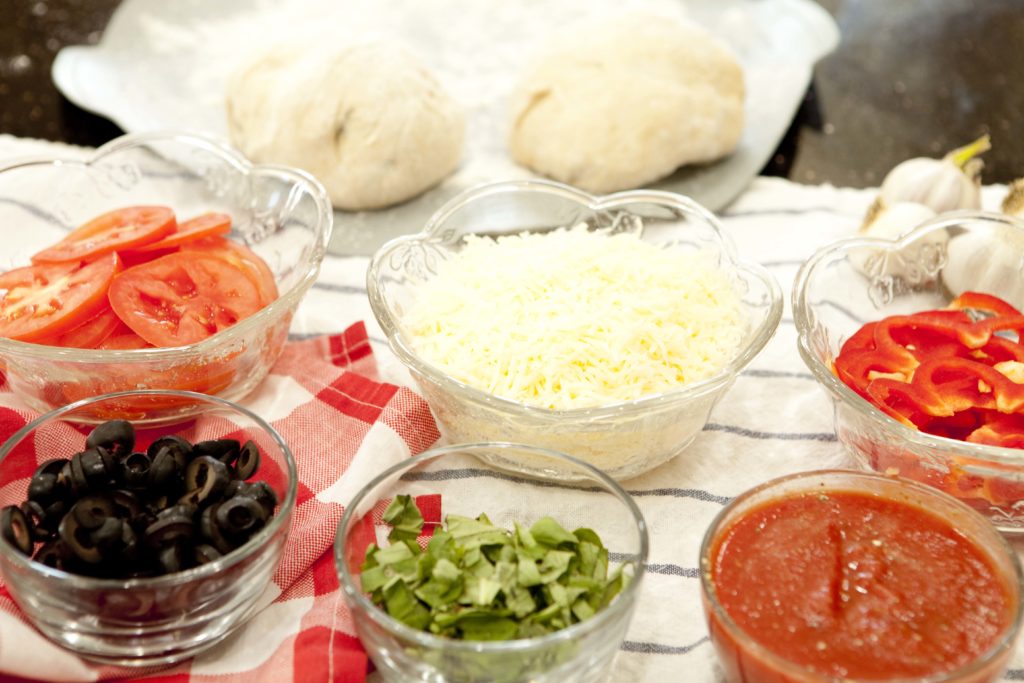 To start, dissolve yeast in warm water and mix in sugar. Let it sit for ten minutes or until frothy. In the meantime, chop fruit and toss with 1 teaspoon of lemon zest and the juice of the lemon. Place in the refrigerator until ready to serve.
Mix together the salt, 1 tablespoon olive oil, and flours in a large bowl or heavy duty mixing bowl with the dough hook until dough pulls away from the sides of the bowl. Turn onto a lightly floured surface. Knead until smooth, about 8 minutes or mix in the mixer. Place dough in a well oiled bowl, and cover with a damp cloth. Set aside to rise until doubled, about 1 hour.
When finished, punch down and knead in minced garlic and 1 tablespoon of  finely cut basil. Set aside to rise for 1 more hour or until doubled again.
Chop tomatoes, basil, olives and red bell pepper; set aside in separate containers.
Preheat outdoor grill for high heat (Pellet smoker to 425 degrees). Heat 1/2 cup olive oil with garlic for 30 seconds in the microwave. Set aside. Punch down dough, and divide in half. This recipe makes about 1 1/2 pounds of dough so I was able to use 3/4 of a pound of dough per pizza. Form each half into an oblong or round shape 1/4  to 3/8 inch thick. They will be about 11-12 inches each.  Brush grill grate with garlic flavored olive oil.
Carefully place one piece of dough on hot grill. The dough will begin to puff almost immediately. (Don't worry, the pizza dough does not fall through the grill grates! Assuming you've properly heated the grill, your dough will form a lovely lightly browned crust.) You can also use a pizza screen on the grill if your grate spacing is quite wide.  When the bottom crust has lightly browned, turn the dough over using two spatulas. Working quickly, brush oil over crust, and then spread on 2 tablespoons of tomato sauce.
Arrange 1/2 cup chopped tomatoes, 1/8 cup sliced black olives, and 1/4 cup red bell peppers over crust. Sprinkle with 1 cup cheese and 2 tablespoons basil. Close the lid, and cook until the cheese melts or to your preference. Be careful and watch closely since all grills heating capacity are different.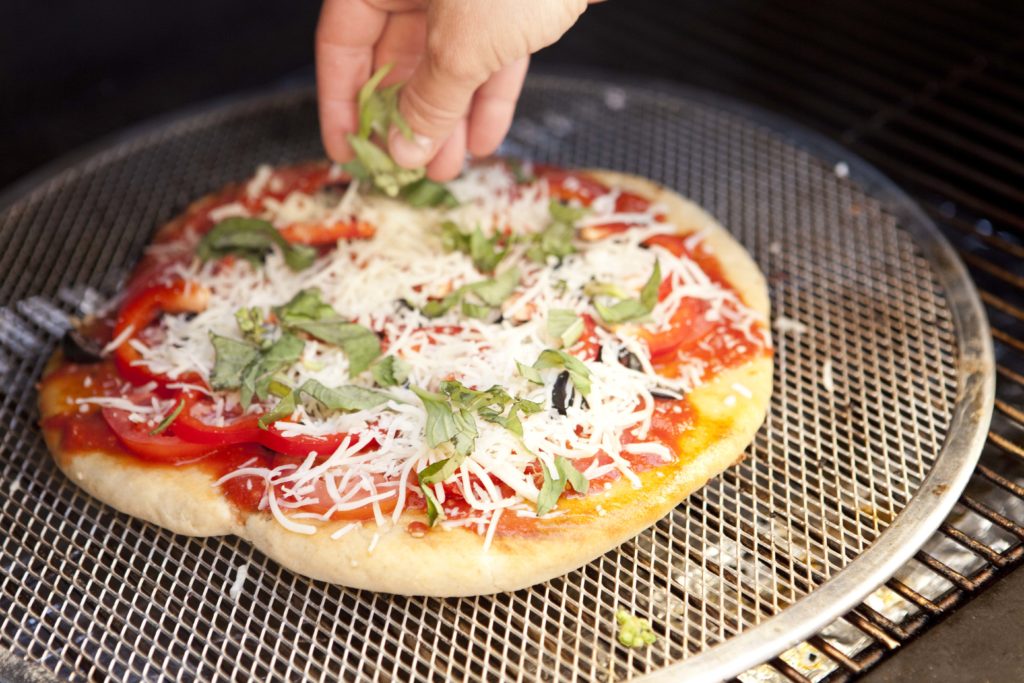 Remove from grill, and set aside to cool for a few minutes while you prepare the second pizza. Repeat with remaining ingredients and serve with a nice, cold, fruit salad.  If your grill can fit two pizzas, great!  Go ahead and do two at a time.
If you weren't salivating before, you are now.  The first time I read this recipe I was kind of on the fence because I've only ever grilled meats but I am so glad I did. Not only did I get out of my house on this hot day, but we were able to play outside as a family while making one of our favorite meals – pizza! I found that the Pellet Smoker helped add so much more flavor to the crust than I can get from a regular oven.
If I were you, I would make a double batch of the dough, then divide it, wrap it in plastic and freeze it. Then, when you want pizza for dinner, take the dough out of the freezer and put it in the fridge before you go to work so when you come home, it will be easy to thaw while you pre-heat your grill. Don't forget to invite your friends over for this meal.