A couple of months ago I brought you the ever-so-handy Healthy Breakfast Rotation Schedule.   It takes all of the hard work out of deciding what to have for lunch. I know for myself, I like variety but I hate trying to meal plan and figure out what to have. More often than not I'm in a hurry and end up just grabbing the first thing I see. With a little bit of planning you'll be able to provide healthy, delicious AND nutritious meals everyday. I've carefully hand selected recipes that will be perfect for kids and adults alike. You'll find a variety of soups, sandwiches, wraps and more. If I had to choose favorites from the list [assuming they can't all be my favorite] I'd say I'm most excited about the Chicken Strawberry Salad Wrap, Froggy Sandwiches, and Vegan Fish Sticks. Honestly though, the entire list is pretty stellar!
As a BONUS for each day of the week I've given you five options. That means that all month long you can have a different recipe every single day! The fifth recipe in each day is for those occurrences when you've got an extra week in the month.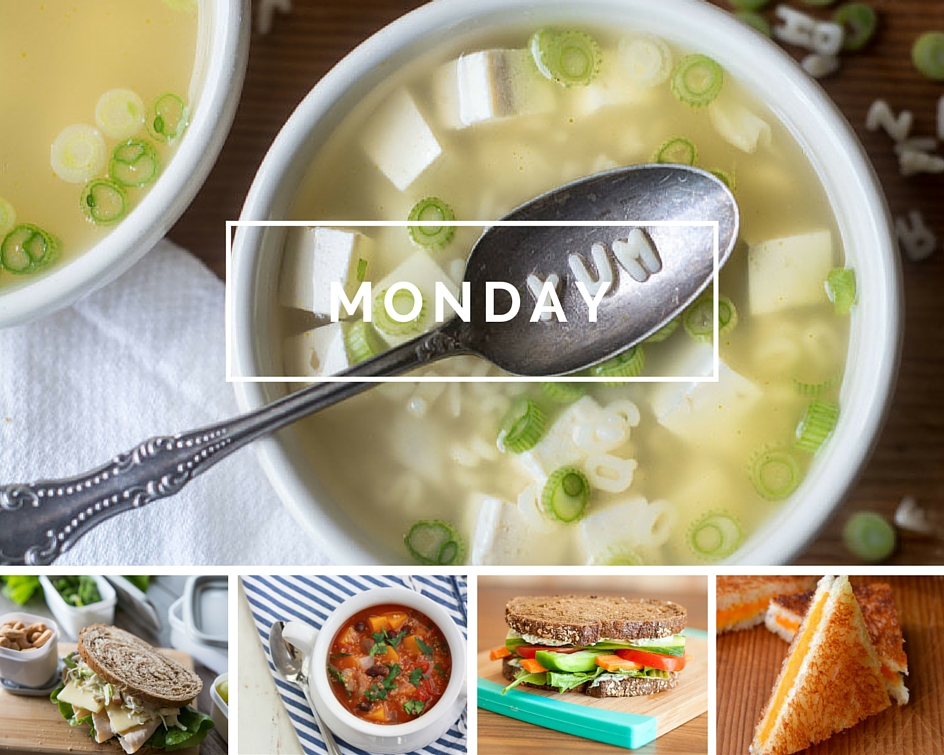 MONDAY
Miso Alphabet Soup | SHK
Copycat Panera Turkey Apple Cheddar Sandwich | Tried and Tasty
Slow Cooker Vegetable Quinoa Soup | SHK
California Veggie Copycat | Peas & Crayons
Mini Grilled Cheese with Tomato Soup Dip | The View From Great Island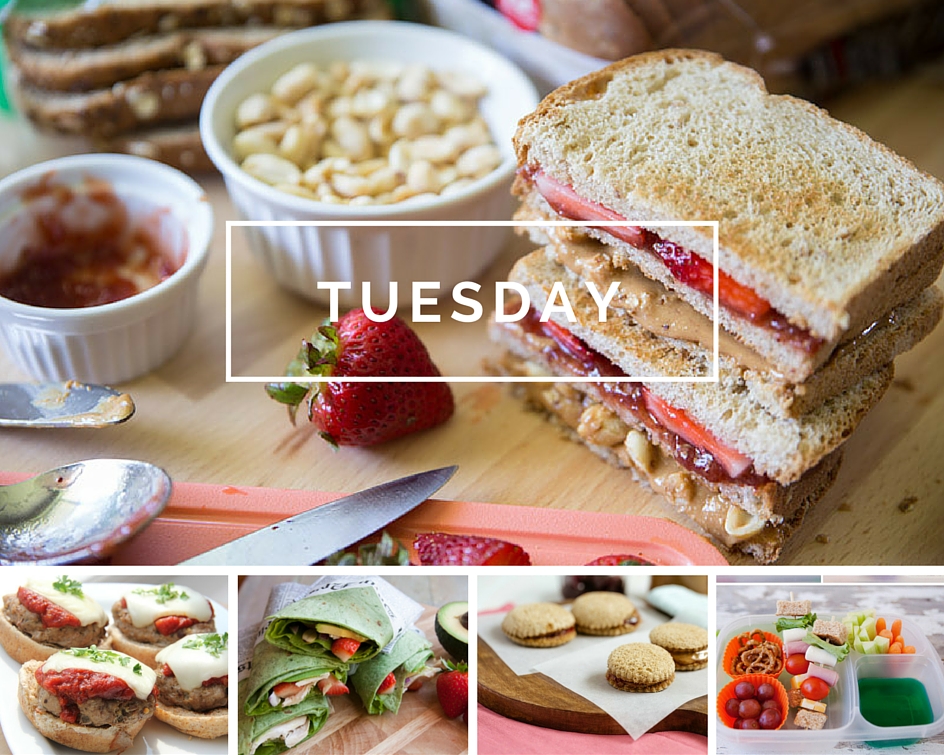 TUESDAY
The Ultimate Strawberry PBJ | Tried and Tasty
Pizza Burgers Sliders | SHK
Chicken Strawberry Salad Wrap | Muy Bueno Cookbook
Homemade Uncrustables | SHK
Simple & Healthy School Lunch Ideas | Simple As That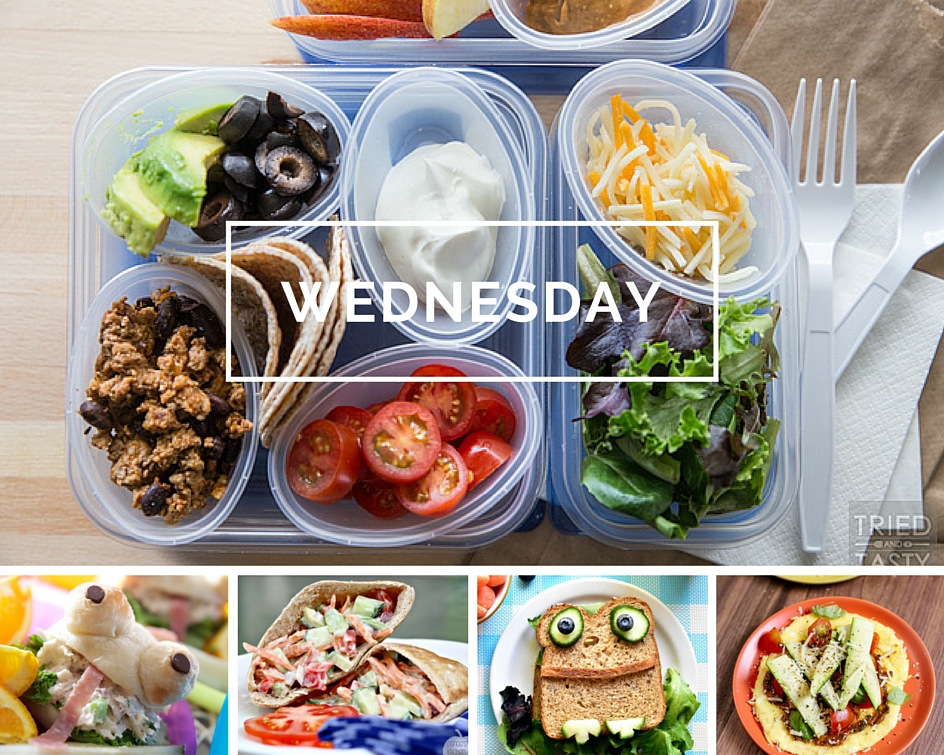 WEDNESDAY
Mini Taco Bar | SHK
Chicken Salad Frog Sandwiches | Tried and Tasty
Stuffed Veggie Pitas | Renee's Kitchen Adventures
Froggy Sandwiches | Fork & Beans
Maria's Gluten Free Pizza | SHK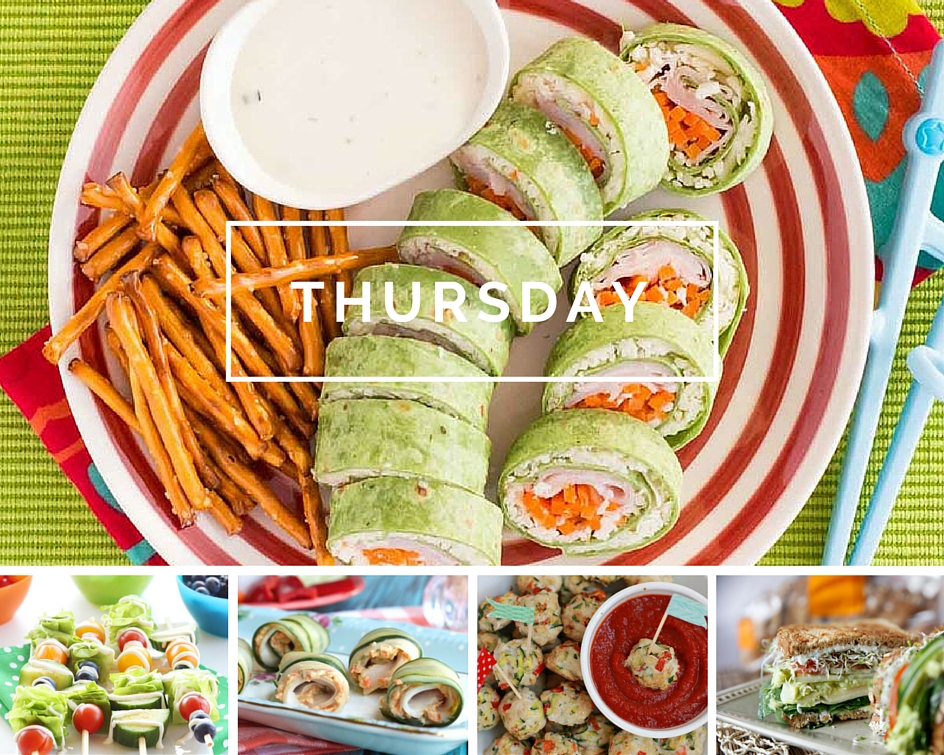 THURSDAY
Sushi Sandwich with Turkey & Cheese | The Weary Chef
The Perfect Toddler Salad | SHK
Turkey Cucumber Roll Ups | Plaid and Paleo
The Ultimate Veggie Sandwich | Tried and Tasty
Pesto Chicken Veggie Meatballs | SHK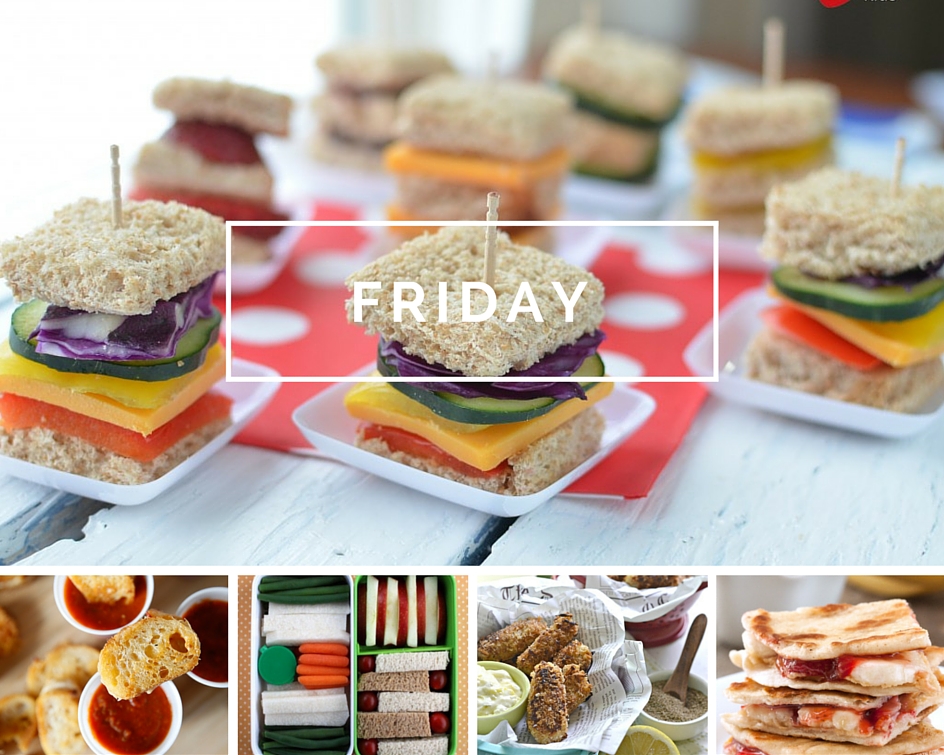 FRIDAY
Mini Rainbow Sandwiches | SHK
Mini Grilled Cheese Hors D'oeuvres | Tried and Tasty
Everyday Bento | SHK
Vegan Fish Sticks | Fork & Beans
Peanut Butter & Banana Strawberry Quesadillas | Texanerin
SATURDAY
Healthy Grilled Cheese Waffle Sandwich | SHK
Clean Eating Alphagetti | iFoodReal
Taco Soup | Tried and Tasty
Homemade Fishstick Recipe | SHK
Grilled Cheese Roll Ups with Tomato Dipping Sauce | Chocolate Moosey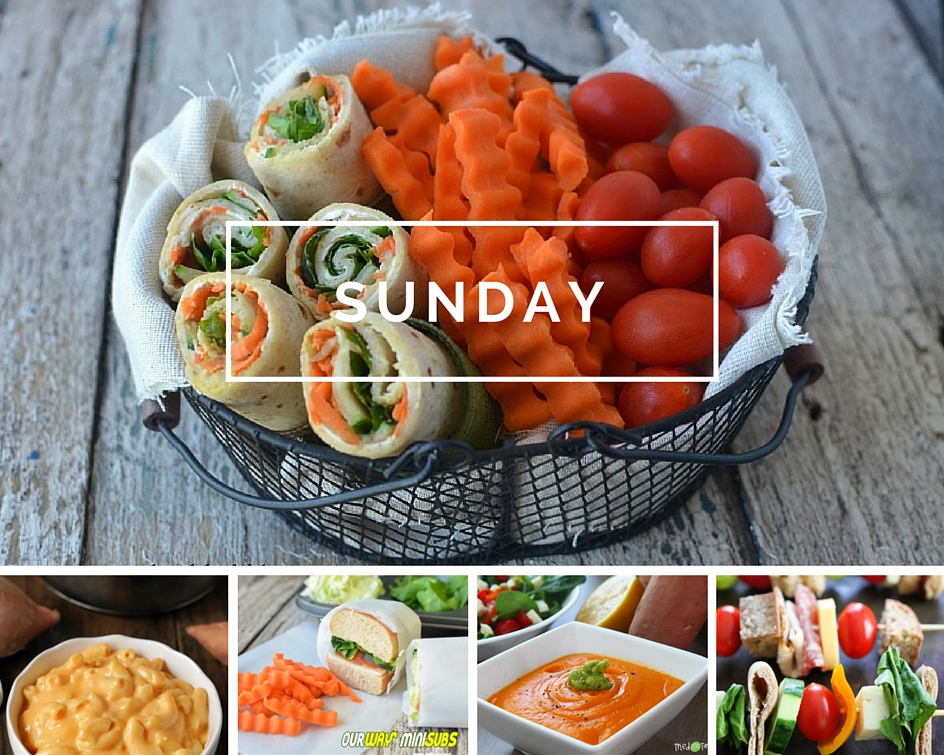 SUNDAY
Veggie Lunch Wrap | SHK
Sweet Potato Macaroni & Cheese | Texanerin
Our Way Mini Sub Sandwiches | SHK
Simple Sweet Potato Soup | T&T
Sandwich on A Stick | Two Peas & Their Pod
When she's not at work or spending time with family or friends, chances are you'll find Yvonne in the kitchen wearing an apron and a smile.