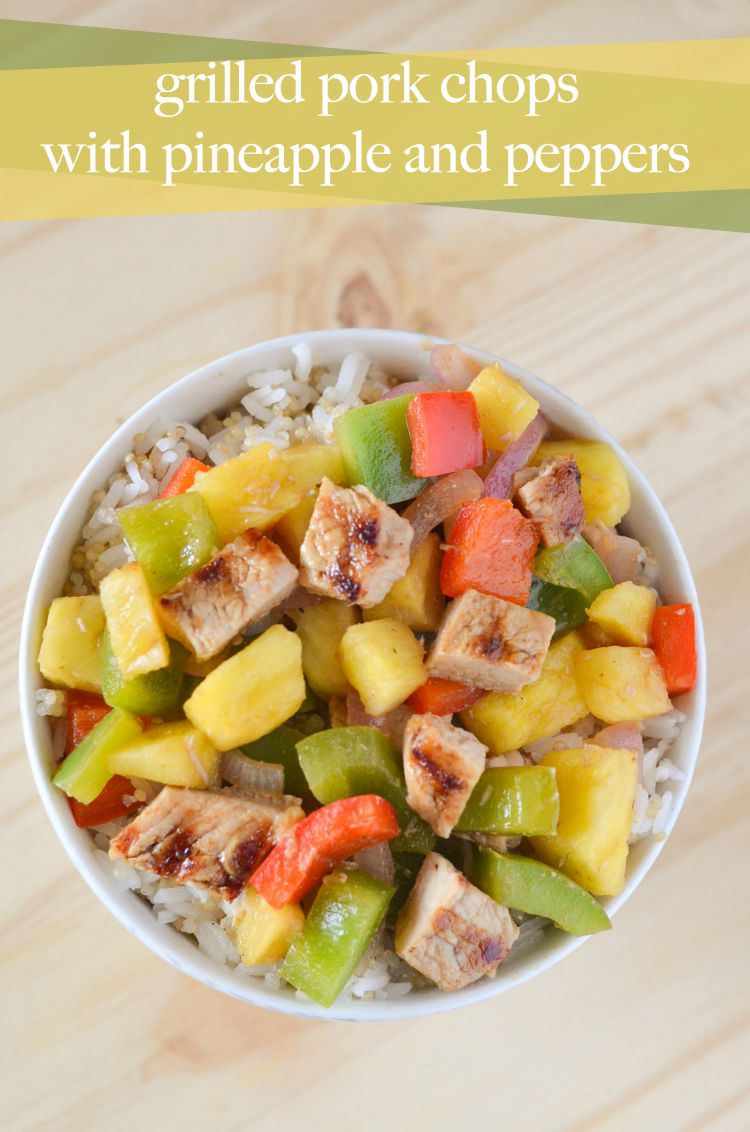 We love peppers and pineapples, especially in this Grilled Pork Chops with Pineapple and Peppers recipe!  Isn't it great when you can flavor a whole dish with simple ingredients that are healthy and nutritious? No mixes, no concentrates or packages.  We went to our local farmers market and scored a great deal on organic peppers.  They weren't uniform or "picture perfect" so we were able to get them for what seemed like a steal.  When you find a pepper deal you can easily chop them up how you'd like them in recipes and store in the freezer.  Use them later in stir fry dishes or anything that calls for peppers that need to be cooked down a little.
Whenever cooking fresh fruits and vegetables I prefer to just slightly cook the produce enough that the flavors come out.  They're done for us when they still have a little bit of a bite, like al-dente pasta!  Our daughter used to suffer from a rare food allergy called FPIES.  This allergy really limited her to certain foods and her first protein was pork!
We made Grilled Pork Chops with Pineapple and Peppers pretty often and still enjoy it.  She was only allowed a handful of ingredients and her triggers were chicken, oatmeal and soy.  Our world opened up to flavors when she started passing each food and finally passing coconut was a blessing! Raw Coconut Aminos became a staple in our home and even after she outgrew the soy we still use the coconut aminos! We limit soy even after she outgrew it.  It seems that soybeans are in everything these days!
Our little lady loves sweet flavors and the sweeter the pineapple, the sweeter your dish!  There's no added sugar in this recipe at all, unless you really like your food sweet, then you could add if you'd like.  By adding in the pineapple to the marinade and into the dish you're definitely going to get that delicious sweet pineapple flavor!
Our motto at every meal is to enjoy as many colors as you can! Looking for a fried recipe to serve along with your Grilled Pork Chops with Pineapple and Peppers?  Try our Broccoli Quinoa Fried Rice!  Loaded with tons of protein and veggies too!
Go ahead and try it tonight!