No-Bake Cereal Bars!  We are proudly sponsored by General Mills to share the improvements they've made to our favorite cereals!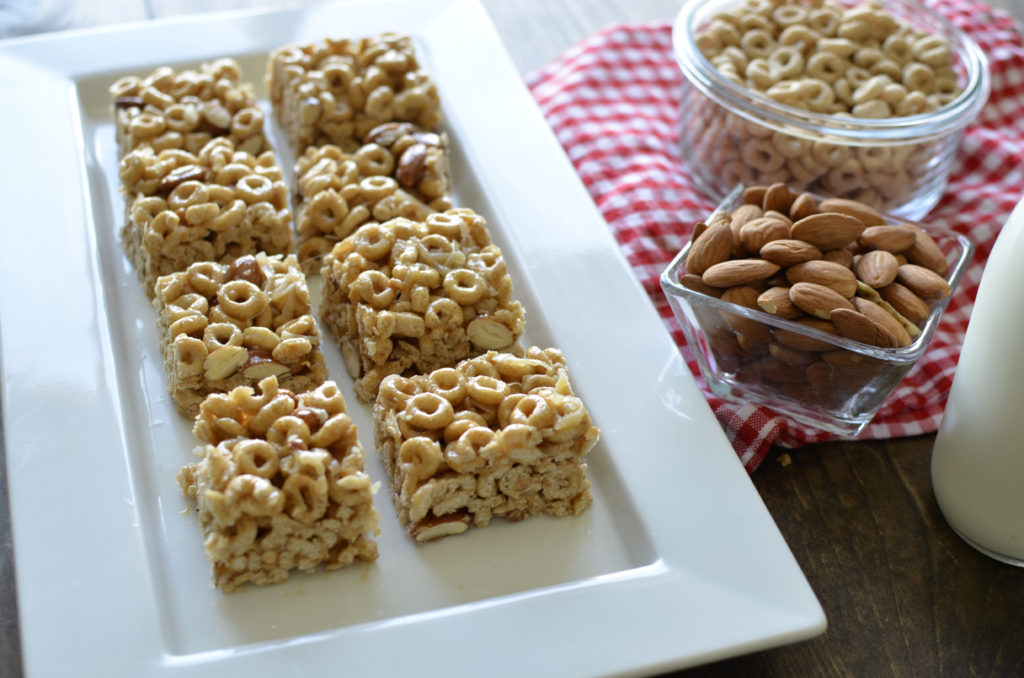 I've always been that kid that loved the first day of school! I loved the new clothes, the new teachers, and meeting new kids! As a mom, I still get to recreate  some of that excitement for my kids. The kids look forward to a fresh start and an opportunity to make good first impressions on their new teachers. We have fun the weeks leading up to school getting ready. We get new backpacks, school supplies, lunch supplies, and we even pre-make some breakfasts to make the first day of school perfect!
In all the excitement of the first day of school, it's nice to not have to worry about making breakfast. When our breakfast is prepped and ready for us to eat the kids have no excuses to walk out the door without a hearty meal. I love that there are no kitchen messes to clean up when we're trying to leave. We don't want to skip breakfast!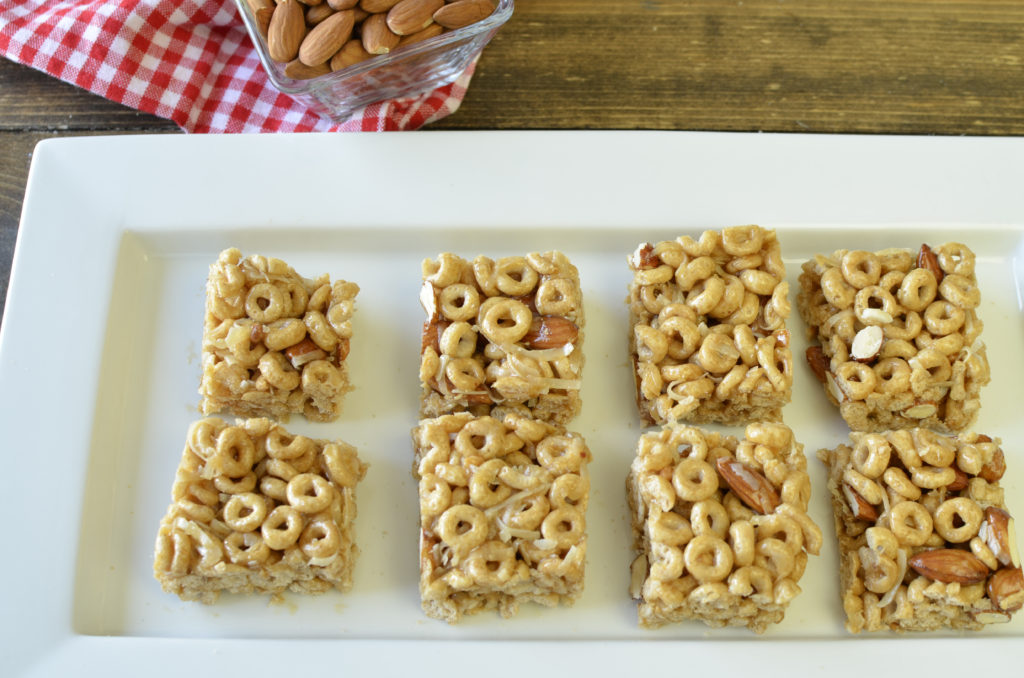  Breakfast eaters have more energy
 Breakfast eaters can focus better 1
 Kids who eat breakfast are more likely to choose healthier foods throughout the day 2
 Breakfast eaters have better moods 3
We have become really good the last few years about meal prepping our dinners once a week. We also choose a few breakfast items that we also prep ahead. Having our breakfast prepped and ready to eat ensures that the kids always go to school with a full tummy, even on the days they sleep too long. The breakfast items we prep most often include
 Frozen waffles
 and cereal bars
These cereal bars have a great mix of protein and fat from the almonds, and whole grain oats from the cereal.
For our cereal bars, we mix a variety of dry ingredients, totaling about 4 cups. We break it up into
 Dry Cereal (usually Cheerios)
 Nuts (almonds for this one)
 and coconut!
Then, as a binder, we boil maple syrup and almond extract. The longer you boil, the crunchier your bars will be. We usually aim for 8-10 minutes. Then, we pour the boiled mix onto our dry ingredients, mix, and form into an 8X8 pan. Then, we put it in the fridge until breakfast! Super easy, on the go, and probably the yummiest cereal bars you will ever have!
Make these cereal bars on the weekend. Double the batch, and have them ready to go for your kids first day of school!
 3 cups Original Cheerios
 1/2 cup almonds
 1/2 cup coconut
 1 cup maple syrup
 1 teaspoon almond extract
 1 tablespoon coconut oil
Combine Cheerios, almonds and coconut in a bowl. In a saucepan, combine maple syrup, almond extract and coconut oil. Bring to a boil, and continue for 9-10 minutes. Pour over cereal mixture and mix thoroughly.  Spread into an 8X8 pan, lined with parchment paper or wax paper. Chill in the fridge until cereal bars get crunchy.
This recipe is finicky! There is a point of sugar boiling that goes from chewy to crunchy, to crumbly.  Getting the right texture might take practice.  If this recipe is a fail as a bar, it's still SUPER YUMMY as a snack mix!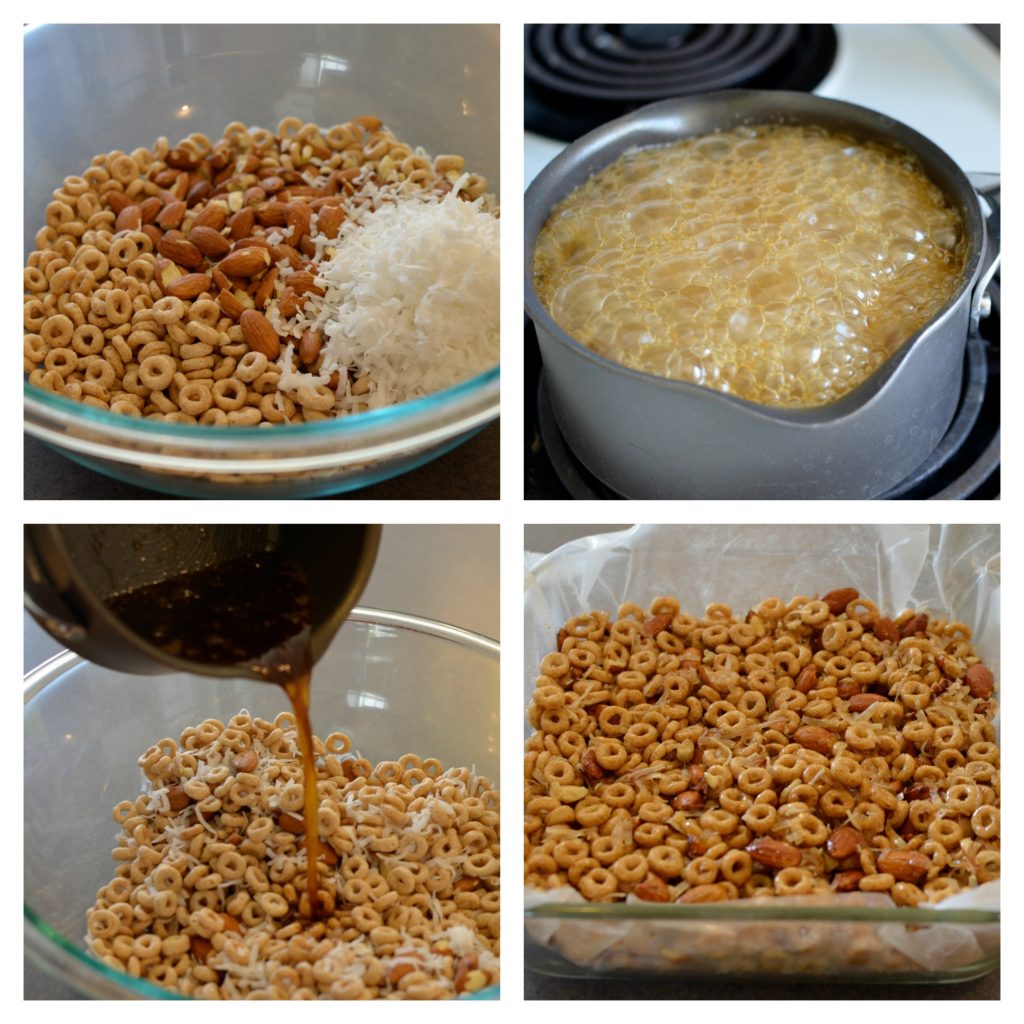 We love our partnership with General Mills, and are so excited by the changes they've made to make our favorite cereals even better for kids. Did you know today, more than 90 percent of General Mills cereal recipes do not have artificial flavors or colors from artificial sources.  Cinnamon Toast Crunch uses real cinnamon, Cocoa Puffs & Reese's Puffs use real cocoa, and Honey Nut Cheerios uses real honey for flavor.  For color, Trix and Fruity Cheerios use extract from blueberries, purple carrots, and turmeric.
We are proudly sponsored by General Mills to share the improvements they've made to our favorite cereals!
http://journals.cambridge.org/download.php?file=%2FPHN%2FPHN19_09%2FS1368980015002669a.pdf&code=c5358ec17de0d562a467b20ce538f628
http://munews.missouri.edu/news-releases/2014/1015- eating-breakfast- increases-brain- chemical-involved- in-regulating-food- intake-and- cravings-mu- researchers-find/
http://dujs.dartmouth.edu/2011/02/you-are- what-you- eat-how- food-affects- your-mood/#.V183s_krKUk