This one dish chicken pot pie skillet is a hearty meal full of veggies and protein. With only a top crust, this skillet meal is totally no-fuss because there's no guessing about if the bottom is cooked or not. Plus, more room for veggies and chicken! This is a simple, heartwarming meal that your family will love.
One dish meals are a favorite around here. Minimizing dishes allows less time in the kitchen and more time to enjoy the family! Who would say no to that?
One dish cast iron skillet recipe
In order to make this meal one-dish, we used a cast iron skillet. These things are hefty! But they cook so evenly and beautifully, and allow use both on the stove top and in the oven. If you don't have a cast iron skillet yet, just google cast iron skillet recipes and you'll see there are plenty of ways to use them. Like with this recipe, they allow for minimal dishes and maximum flavor! They also may boost the iron in your meal, which I know I usually need.
If you're not willing to take the plunge into cast iron skillet meals just yet, just use a regular skillet on the stove and then transfer the filling into a baking dish (a large pie pan or an 8×8) before adding the crust. It just won't quite be one-dish that way, but close. 😉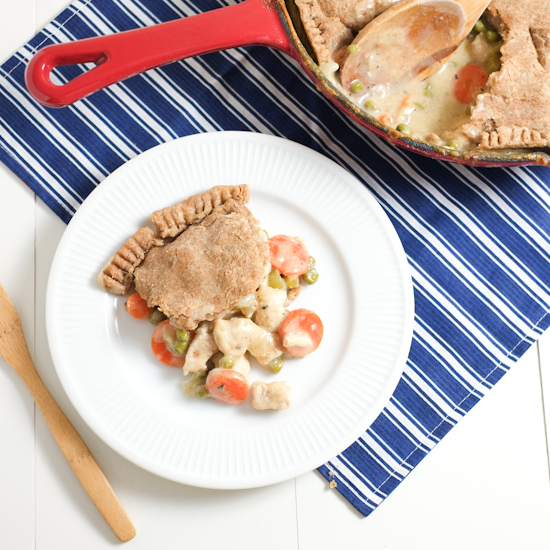 Easy chicken pot pie skillet notes
This meal is a great one to prep ahead! You can make your crust ahead of time and keep it in the fridge for up to 24 hours before rolling out and cooking. Pre-cook your chicken and pre-chop your veggies. Then all you have to do right before dinner is cook veggies for a few minutes, simmer the gravy, plop the crust on top, and bake!
I decided to make this crust a little special with some thyme and garlic mixed in. It gives the crust a little extra flavor that I love! If that's not your thing, feel free to leave the seasoning out and you'll still have a great basic crust. Using whole wheat works perfectly for this recipe because it gives it some extra heartiness. And it bakes up so crispy and delicious.
Once you get everything mixed in together, your skillet will be pretty full. Originally, I started with 1 1/2 pounds of chicken, but it just didn't quite fit. So if you want a bit more chicken, feel free to try and use a bit more, just wait to add it back in to the skillet until the gravy has simmered down a little bit so there is more room.
By the time my chicken pot pie skillet finished baking, the crust started to shrink a little bit. You'll probably experience this too, but it's totally ok if the crust pulls away from the edges a bit. If you prefer to avoid this, simply drape your crust over the side of your skillet and don't trim off the excess (unless it extends past the bottom of the skillet, of course). This rustic style allows you to use all your dough and keep the sides from shrinking in as much.
Say goodbye to excess dishes, and hello to a tasty, hearty meal everyone will love!