In my household (and maybe yours too!) grilling day is an "all-hands-on-deck" kind of day.  My husband is always the grill master, I am the grill food prep and the kids will do such things as setting the table, opening the doors for us, mixing ingredients and many other jobs they beg to do.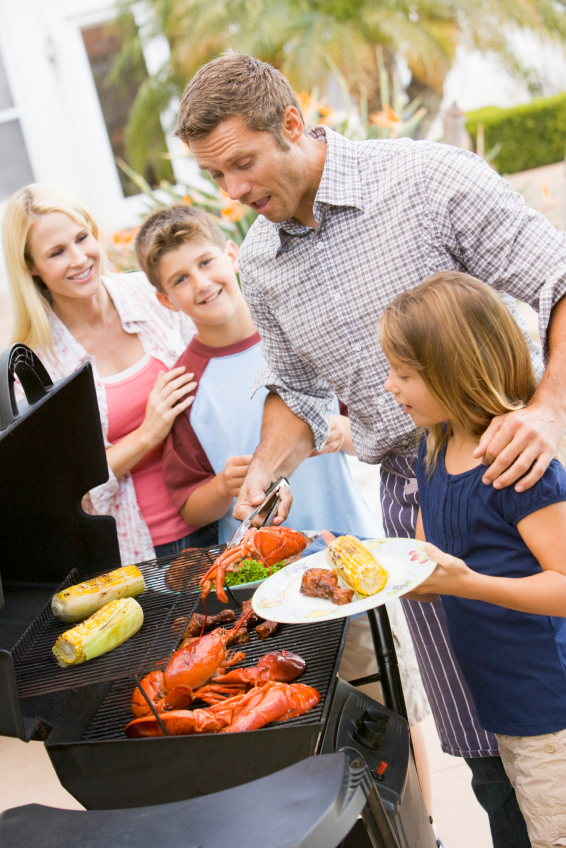 Some of our best family memories are when we gather with friends and family for a big grilling fiesta! I also love this because its also a chance to show others just how easy it is to turn the day into an explosion of laughter, games and heart-felt memories!
For me, naturally, it begins with some planning.  My husband decides what meats he is aching to grill and then we firgure out what style of cooking we will focus on such as, Tex-Mex, Spanish or Comforting.  This will give me a better idea as to what marinades and sides will go best with the meat being cooked.
Next, the kids love decorations and it is easily something they can help plan and commit to doing.  So they are always in charge of this.
When I am in the planning stages of what will be served as sides, this is where I always bring in the kids.  I ask them to choose at least two vegetables as well as a fruit.  Many times the fruit ends up being a dessert! Since they love to look at pictures I will sit with them at the computer and have them choose foods that are appetizing to them.
Some things they can help with when it comes to cooking time:
husking corn
mixing ingredients
assembling food items
setting the table
cutting, when the right kid-safe tools are available
transporting food items from the kitchen to the grill or the refrigerator to the counter
We also have rules to abide by when helping out in the kitchen.  First, we always clean our hands before handling any food and again if we get distracted and step away from our food prep. (Remember, kids have short attention spans and will likely find something else interesting!)
There is no running in the cooking areas and the only knives used are kid-safe ones.  They also know to keep back from the stove and grill, too.  I always am sure to get them involved in the cleanup as well.  I personally do not want my family to think I am a cleaning machine and besides, its an essential life skill.  Oh yes, and an additional important one that I was reminded about on the HealthyKids website: be sure they know how to dial 911 in case of an emergency.
What are some benefits of getting your kids involved more? They are more likely to choose healthier foods at and away from home, they understand more about where food comes from and how important it is that we eat foods to help us grow, think and play.  They also learn how much fun they can have with the family and are more apt to try new foods. Guess what else this fun filled event brings? It brings the family back to the dinner table – an amazingly fond childhood memory that I am always talking to my children about.
So on your next grilling day, be sure to include everyone, from beginning to end, because it will be an adventure to carry through generations to come.
Want to learn more about why it is important to bring the kids in the kitchen? Check out these
videos
here!