Breakfast is a meal that our family loves.  My kids will eat most breakfast foods, and they know that they will feel better at school or whatever they are doing that day if they eat breakfast.  This is an easy one-pot breakfast meal that is packed with protein, flavor and you can add many different kinds of veggies.  We think it is especially good with asparagus, and our kids loves this meal so much they don't even notice the asparagus in it!  This Asparagus Breakfast Frittata is fancy enough for a special occasion and easy enough to serve as an everyday breakfast dish for your family.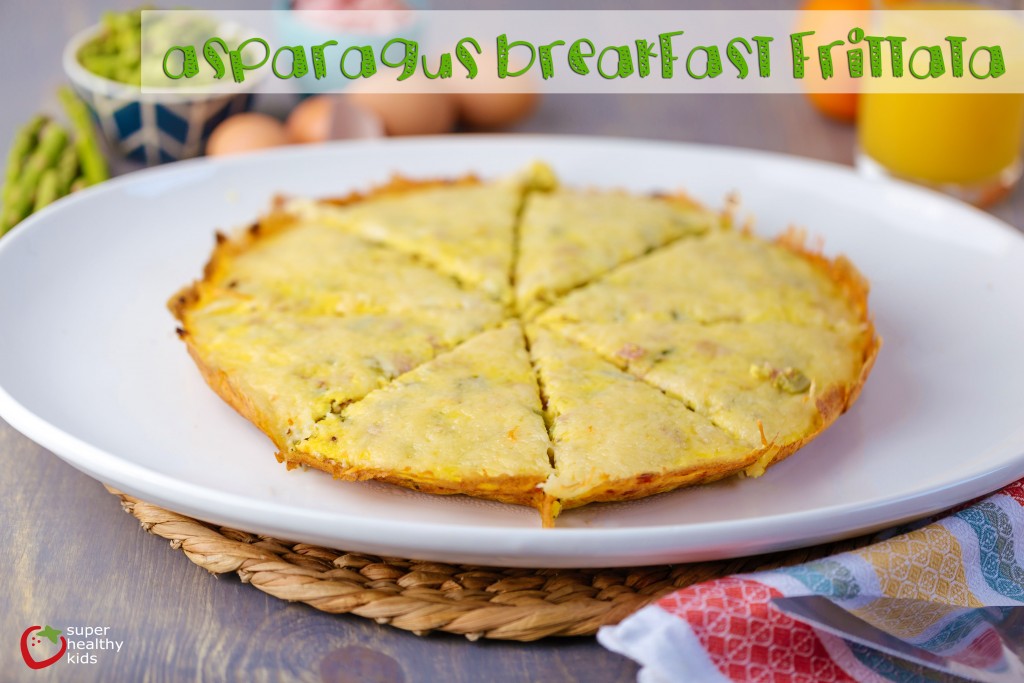 Asparagus is in season in the Spring.  The size of the stalk,  isn't an necessarily indicator of quality or flavor; thick asparagus  is just more mature than the thin variety.  Look for bright green or violet-tinged spears with firm (not limp) stems. Make sure the tips are closed and compact. When the bunch is squeezed, it should squeak.  Chop your asparagus into small bit size pieces.
You will want to make this dish in an oven safe pan, because it finishes cooking in the oven.  If you want to add more protein and a savory flavor, add some chopped ham or turkey.  After sauteing the garlic, onion and asparagus, you will add your protein and eggs.  Let it cook until the eggs set a bit.
Sprinkle your cheese on top and pop it in the oven to let it finish cooking.  You can remove the entire frittata and set it on a serving plate, then slice it up.

We love to serve this dish with fresh fruit, especially some kind of citrus if it is in season.   This is the perfect meal to make on a lazy Sunday morning, or for those times when you have company over and have a crowd to feed!