Be prepared for busy school mornings with these kid friendly breakfast bar recipe! The perfect, nourishing breakfast on the go – or grab from freezer to lunchbox for quick packing!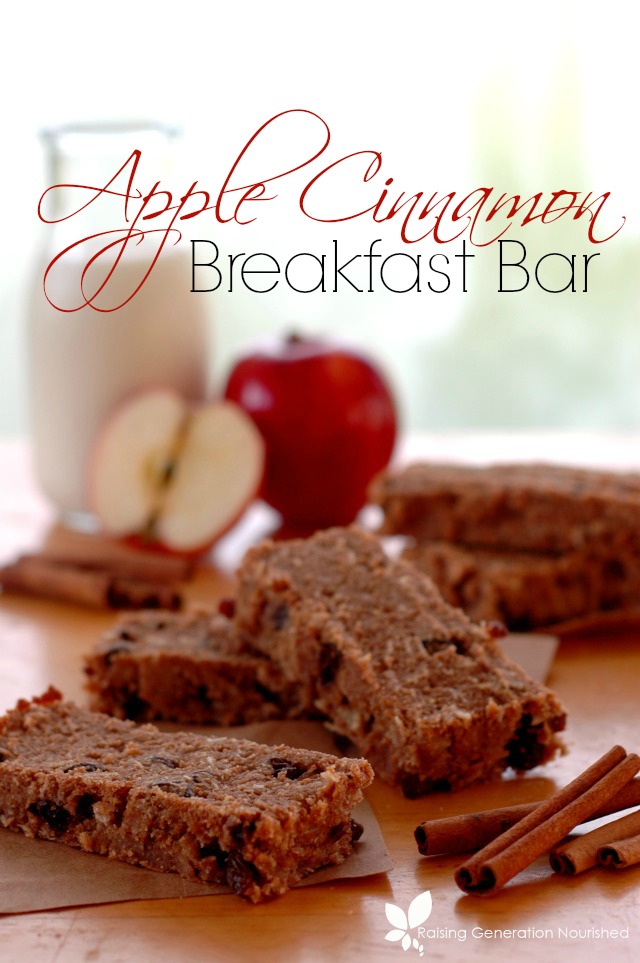 So a brand new school year!
Gosh, what is it about fresh paper, a new pack of pencils, and bright color folders?! I'm not sure if it has to do with the new backpacks (or the children ready to get back to a routine!), but I really love the start of a new school year!
Last year was my oldest's first year in full time school, and outside of reading, writing, and arithmetic, we learned a few things.
First, my kids (yes all 3 of them!) have a smoother morning when they don't feel a rush. And second, my kids (yes all three of them!) are in brighter, ready to learn and play moods when they have nourishing meals to start their day.
Breakfast is typically my household's biggest meal of the day – and for good reason. After 10-12 hours of sleeping, my kids are ready to refuel in the morning. Children especially function better in school when they have a great balanced breakfast.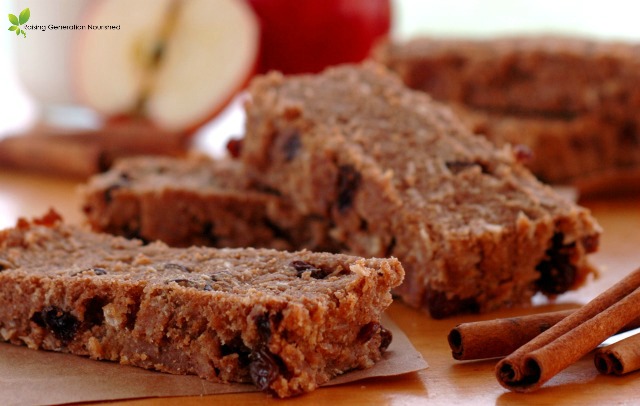 Since school mornings can are busier (especially on the days I also have to have a preschooler ready in addition to the elementary kid. And oh! Let's throw in the baby that needs a diaper change *right* as we are getting into the van!), I try to have breakfast all ready the night before.
I have a handful of breakfast staples we rotate such as molasses protein bars. They stash in the freezer super easy, a big pot of oats that I cook every Monday morning to scoop from and warm through later that week, and I keep nourishing granola in the cupboard for Fridays…because Fridays deserve some fun cereal!
I decided we needed another, different breakfast to keep on hand for this year, and thought apples and cinnamon would be good. My goal in creating these was to keep it *quick* to make without any fussing around. I literally can get this batter into the pan in less than 10 minutes.  After they cool I can cut the bars up easily and get them into the freezer. The ingredients are all available year round (even in our crazy winters!), and almost always in my kitchen.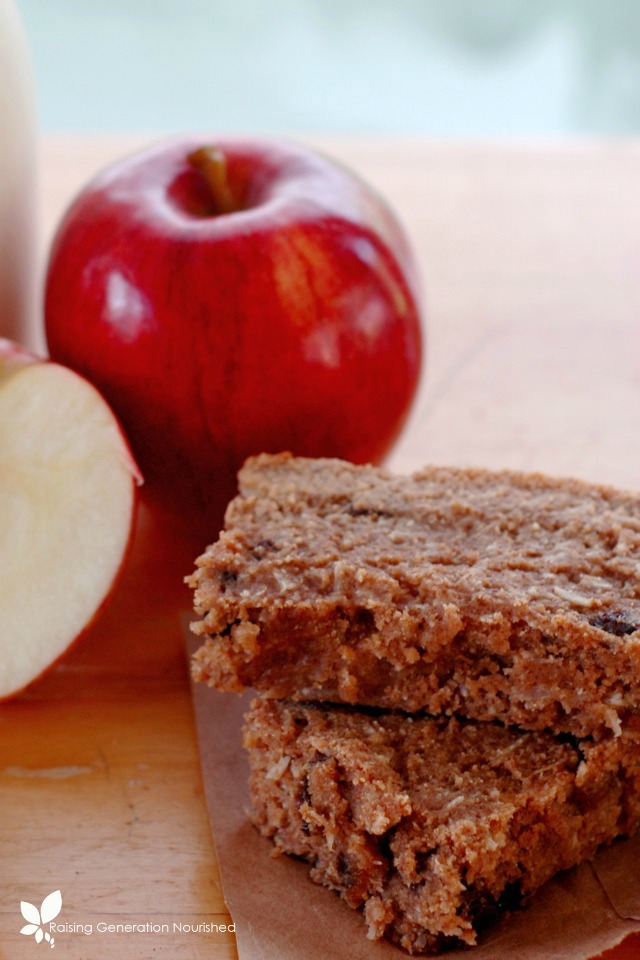 Not only are these breakfast bars simple to make, but they are pack nourishment from all levels.
Truly Well Rounded
These bars have:
Friendly fats to nourish the brain
Power packed protein to fill them up
Friendly carbohydrates and fiber to fuel energy!
If your kids are lighter breakfast eaters, this will fit the bill entirely for them. My kids are big breakfast eaters, so I have been serving theirs with a glass of raw milk and a hard boiled pastured egg. (Did you know you can hard boil eggs and keep them in their shell for about 4-5 days?! I hard boil a dozen eggs on Sunday and keep them in their shell in the fridge for quick pull out breakfasts or snacks on the go!). You could also serve it with a green smoothie to get some veg in!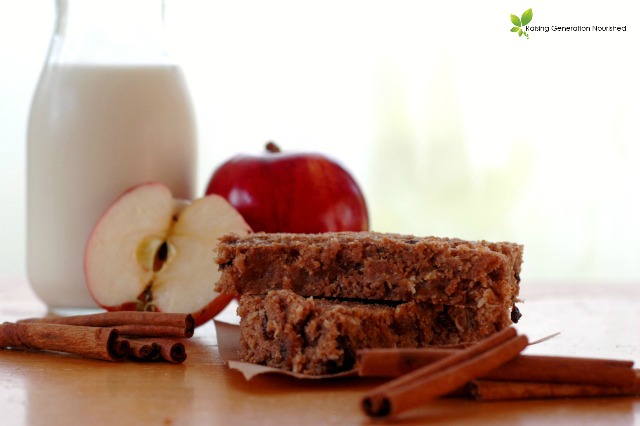 I even plan to use these bars as a quick lunchbox add-in! You can easily double this recipe so you don't have to make them all the time.
As it is this recipe makes 8-12 bars depending on how big you cut them.
Renee blogs at Raising Generation Nourished, and with 3 girls ages 6 and under, she is passionate about raising the next generation of kids with a better understanding of where food comes from and how it affects their bodies.