Veggie-Packed Chicken Tetrazzini

SERVES 4
Ingredients
2 small – squash, summer
2 1/2 cup, pieces or slices – mushrooms, white
3 clove – garlic
1 pound – chicken breast
2 tablespoon – butter, unsalted
1 tablespoon – flour, all-purpose
5 1/2 cup – milk
16 ounce – spaghetti pasta, whole-wheat, dry
1 tablespoon – olive oil
1 1/2 cup – green peas, frozen
2/3 cup – Parmesan cheese, grated
1 1/2 teaspoon – salt
1/4 teaspoon – nutmeg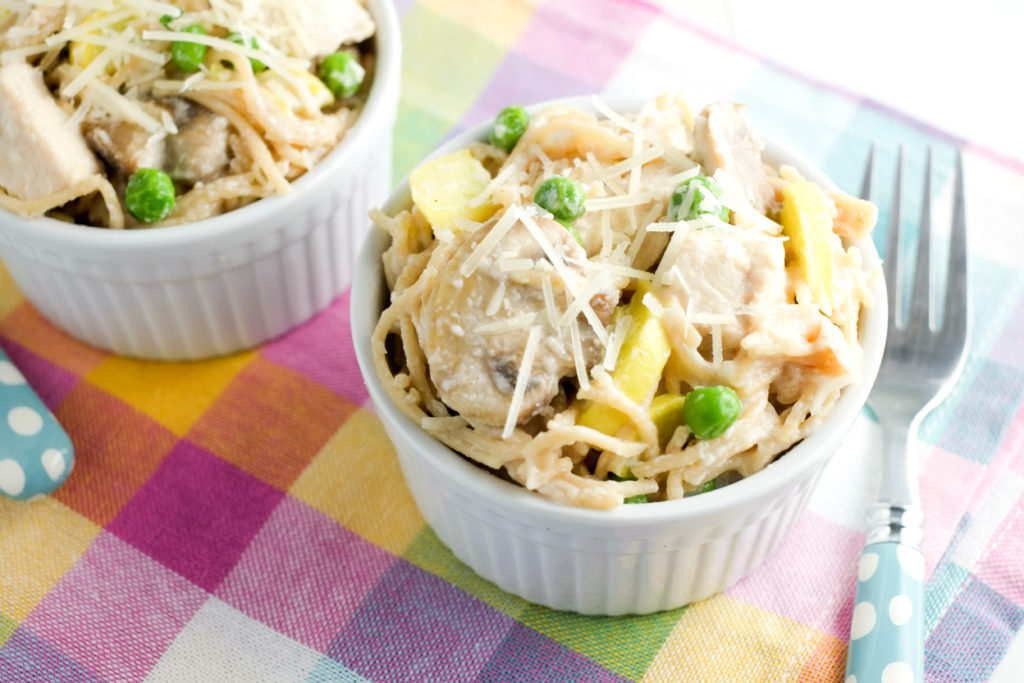 Directions
Chop two small yellow squash into small cubes and slice 8 ounces (2.5 cups) of mushrooms. Mince 3 cloves garlic. Cut chicken into small pieces.
In a large pot, melt butter. Once melted, whisk in flour and continue to stir as it forms a paste and then thins out a bit. After 2-3 minutes, remove from the heat and whisk in a few tablespoons of the milk. Once fully incorporated, add a little more milk and whisk again. Do this a few times and then add all the rest of the milk at once.
Bring the milk mixture to a boil and then add 1 pound of whole wheat noodles. Cover and reduce heat to allow the noodles to simmer. Cook for as long as package directions indicate for "al dente" texture, stirring occasionally.
Meanwhile, heat a large frying pan over medium-high heat. Add olive oil, then mushrooms and chicken. Cook for 5 minutes, stirring regularly, then add squash and garlic. Salt and pepper to taste. Cook for 5 more minutes, stirring at intervals.
Once the noodles are mostly cooked and the chicken is cooked, add the veggie and chicken mixture into the noodle pot. Also add frozen peas, Parmesan cheese, salt, and nutmeg. Stir over low heat until everything is well combined and no liquid remains.
Serve with extra Parmesan cheese for garnish, if desired.
FIND MORE RECIPES AT SUPERHEALTHYKIDS.COM