Sweet & Tangy Peach BBQ Chicken Tenders

SERVES 4
Ingredients
1/2 medium – onion
1 medium – bell pepper, red
3 medium – peach
3 clove – garlic
1 tablespoon – olive oil
1/4 cup – vinegar, cider
2 tablespoon – Worcestershire sauce
1/3 cup – honey
1 teaspoon – mustard, ground
1 teaspoon – chili powder
2 pound – chicken breast
1 – cooking spray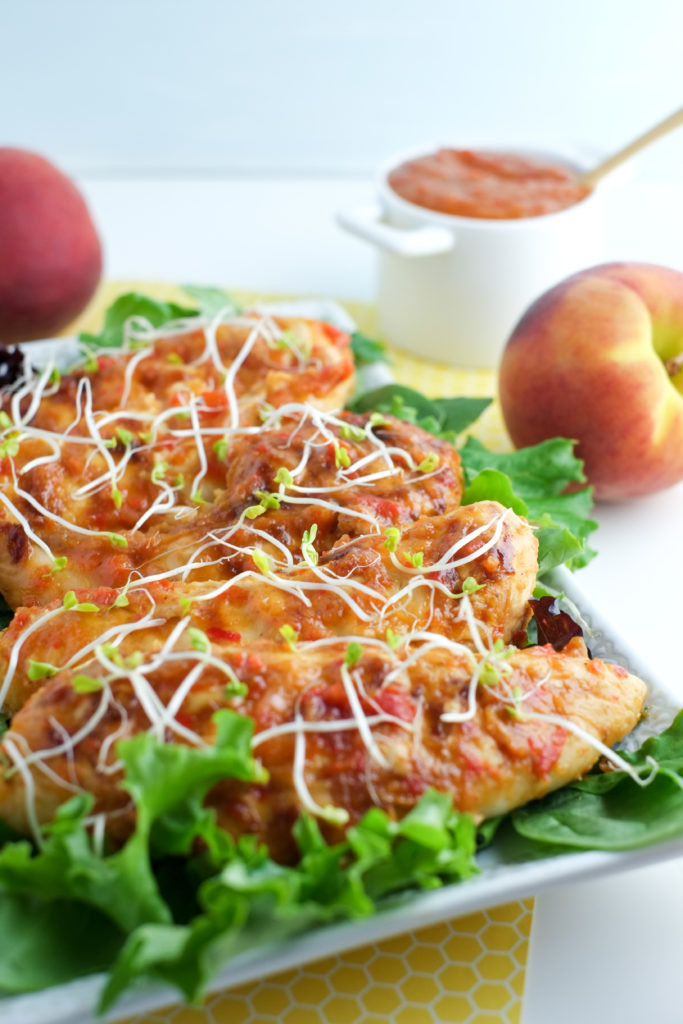 Directions
Dice half an onion, 1 red bell pepper, and 2 cups worth of peaches. Mince garlic.
Heat a large frying pan over medium-high heat. Add 1 tablespoon olive oil, then diced onion and red bell pepper. Saute, stirring occasionally, for 10 minutes.
Add 2 cups diced peaches. Saute for 5-10 more minutes, until everything is very soft. Add 3 cloves minced garlic and saute for another minute.
Remove from the heat and spoon the mixture into a blender. Add the remaining ingredients and blend well.
Now slice 2 pounds of chicken breasts into thick strips or "tenders." Poke each piece with a fork several times.
Combine half of the sauce and the chicken in a large container. Cover and allow to marinate for 30 minutes to 8 hours in the fridge.
To cook, heat a frying pan over medium-high heat and spray with cooking spray. Cook the chicken for 4 minutes per side, adding extra sauce near the end of cooking.
OR to grill, use medium-high heat and brush the rack with oil. Cook for 4-5 minutes per side, brushing with extra sauce at the end.
Serve with remaining sauce – and you'll still likely have a good amount left over.
FIND MORE RECIPES AT SUPERHEALTHYKIDS.COM