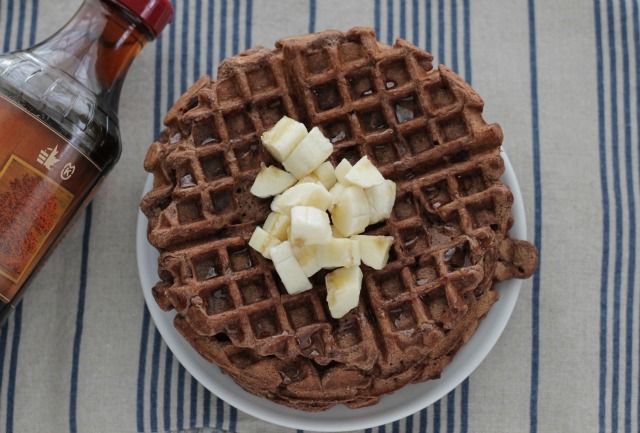 Almost every weekend we have pancakes or waffles for breakfast. We stay in our pjs, watch the sun come up outside of our breakfast nook, and enjoy chocolatey waffles that happen to be packed with nutritious ingredients. And while we love having these on any random weekend, they make for an especially yummy breakfast on a holiday or birthday—even more so if your kids love chocolate!
These waffles mix up in one bowl and are naturally sweetened with a little mashed banana in the batter. The resulting flavor combination of chocolate and banana is pretty indulgent, but the mix of whole grain flours and minimal added saturated fat keeps them very light and airy. We love ours topped with a little more banana and maple syrup, but you could go in almost any direction, adding berries or whipped cream on top, drizzling on some warm nut butter, or even topping with a few chocolate chips.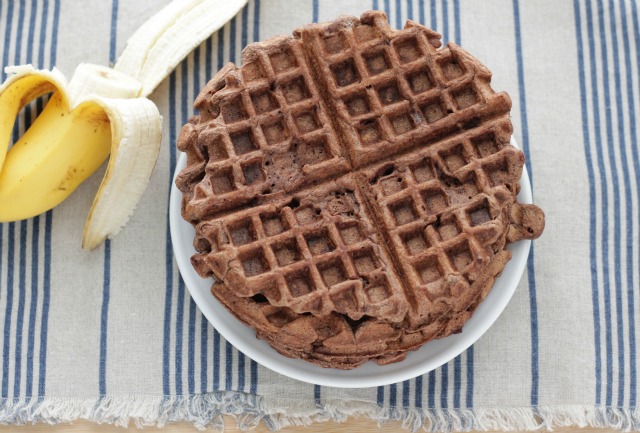 One of my favorite things about this recipe is that it's really versatile. Which means that if you have a food allergy or simply a dietary preference in your house, you can adjust these as needed. Can't do dairy? Use almond or your favorite non-dairy milk. Kiddo allergic to eggs? See the note about substituting chia eggs. Gluten-free? The main recipe uses gluten-free buckwheat flour, but you can also use whole-wheat if you prefer.
This recipe makes enough for a small family, so double the batch if you are feeding more than 3 or 4. And not to worry if you somehow wind up with leftovers—simply let them cool and freeze in a zip top plastic freezer bag, layered with wax paper, and pop into the toaster for a quick weekday breakfast.

Amy Palanjian shares recipes and feeding inspiration for little ones at Yummy Toddler Food. Follow her on Instagram or find her on Facebook.